I am proud to have been part of this moving project. Working with the young people and the teachers was a lot of fun. Only through this creativity and courage could we help in the realization of the film.
I am all the more pleased that the project was awarded the Thuringian Future Prize 2017.
Watch the film …and a making of!
The website can be found  here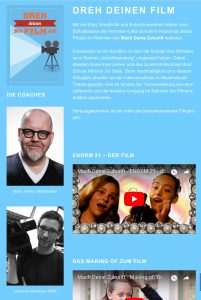 Judge's Comments
"Jugendlich und ansprechend bezieht die Kampagne die Zielgruppe nicht nur mit ein, sondern auch direkt an und vereint die verschiedenen Kanäle miteinander. Super geworden!"
"Ein tolles Projekt, welches die Kinder auf gekonnte Weise integriert. Das Schönste daran ist die Zusammenarbeit mit Profis und die Umsetzung auf Augenhöhe. Man könnte beim nächsten Mal auch die Umsetzung im Social Media Bereich mit einplanen, da gerade junge Zielgruppe dort sehr aktiv ist und die Aktion auch selbst damit in der Zielgruppe teilt und seinesgleichen sensibilisiert."
"Eine Klasse Idee und eine tolle Kampagne."
"Der Zielgruppe entsprechend strategisch gut aufbereitete Initiative, die sich mit einem recht sensiblem Thema befasst. Von der Begleitung, bis hin zur Kommunikation des Projekts zielführend durchdacht und organisiert. Lediglich die Website hätte ein wenig spektakulärer aufgebaut werden können (Im Footer-Bereich sind die genutzten Content-Elemente unpassend gewählt)."
"Schöne Idee und gut für die Zielgruppe umgesetzt."
"Schöne Kampagne. Multiplikatoren eingebunden, interessante Projekte und Inhalte, gute mediale Umsetzung, überzeugende Website."
"Die Marketingkampagne ist hervorragend dafür geeignet, junge Menschen für das Thema Nachhaltigkeit zu begeistern. Die Kampagne überzeugt insbesondere durch das Design und die unterschiedlichen Kommunikationsideen."
"Sehr gute und soziale Idee und Umsetzung."